Evo
Ozobot Evo is a fun social robot that communicates sounds to children by blinking LEDs.
It will be a fun companion in teaching programming, robotics and computer science to children over 8 years of age.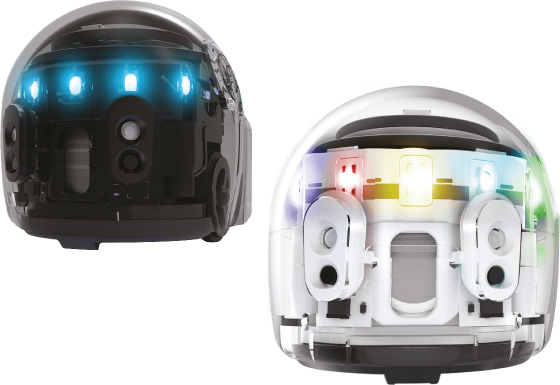 Like Bit 2.0, you can program Evo simply using unique color ozocodes, or in an intuitive OzoBlockly editor or application.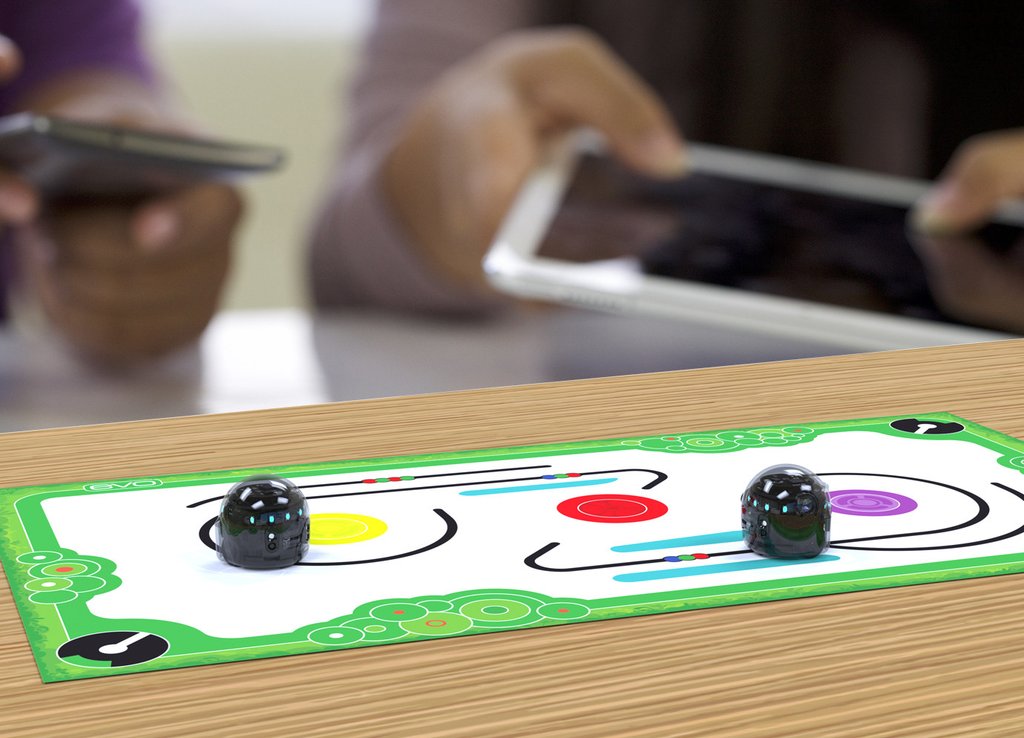 Ideal for children from 8 years
The mini robot Ozobot Evo is even smarter than Bit 2.0, providing more space for children's creativity and the development of their robotics and programming skills and knowledge. In addition, it is equipped with autonomous behavior, so it starts flashing and dancing the first time it is switched on and keeps children alert at all times during their classes.
You can program the robot not only in the ozo codes to follow the drawn route with the commands, but also in the OzoBlockly editor or in the installed application via Bluetooth with a range of up to 10 meters. You can control the robot with a sensitive joystick, and Evo will respond immediately.
Rechargeable batteries
The Evo is powered by a built-in battery that you can easily charge using the included USB cable.
When fully charged, the robot will last approximately an hour of normal use. If the battery is completely discharged, it may take up to an hour to fully charge.
Built-in line tracking sensors and more
The Ozobot Evo has seven optical line-tracking sensors, so that the path is follow with the utmost precision and flawlessly completes all of the tasks entered with the help of the ozocodes, including the change color of Evo recognizes through the color sensor.
Infrared proximity sensors keep an eye on the robot's surroundings and alert him of any obstacles in the way or another Ozobot Evo. Evo doesn't bump into him, but greets him with a flashing LEDs and sound from the built-in speaker.
The five color LEDs on the front of the Evo constantly playfully flashing. They respond to the color of the pad, or you can adjust their color and flashing intensity in the application.
Ozobot Evo is equipped with its own intelligence based on randomly generated decisions, so in the case of a crossroad it decides which way to take.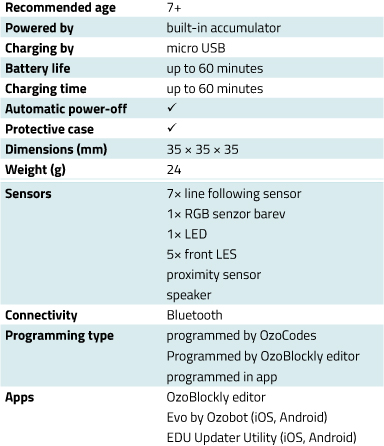 Bluetooth technology
Evo is equipped with Bluetooth technology up to 10 meters, so you can control it remotely from the free app for smartphones and tablets.
Color coding
Ozobot Evo can be programmed in three ways, from the simplest one that uses the unique color ozocodes, through the compilation of color blocks to control through the application.
Ozocodes are based on different variations of green, blue, black and red color – each variation meaning a different command (the so-called Ozocodes). Children can draw a track with color markers and prepare tasks for Evo – for example, they can change the speed, direction and intensity of flashing or the color of the integrated LEDs.
A little more complicated is programming in the intuitive OzoBlockly editor. You can open it in any internet browser and build the program from color blocks with individual commands. Thanks to the "drag & drop" system, children can see which commands cannot be given for themselves because they do not "fit together", so they cannot be combined, light effects, or more complex conditional tasks on several levels of difficulty.
Evo also has its own application, through which you can easily control it, set it up and all the movements and changes you can record and then run from the recording. With the app, you can interact with other users from around the world and take part in new challenges every day.
Diverse accessories and options
To make sure that Ozobot Evo will respond correctly to the drawn path, you can purchase a set of four markers that have the optimum tip width.
Another variant is a set of wooden puzzles, which contains 96 pieces, from which you can easily compose way full of turns, loops and crossroads.
Application for Evo
For programming in OzoBlockly you don't need an application because it can be opened in any internet browser on your tablet or computer, regardless of your device's operating system. However, you can download the application Evo by Ozobot to further enhance Evo's capabilities. With it, children can control the robot, change its settings from color of LEDs to speed, communicate with other users, and meet challenges as they deepen their programming skills.
Evo understands well with a tablet where you just download Evo app and let the robot go through the drawn path directly on the display, use the library with logical tasks or play a game with other users Ozobot robots.
If children use multiple Evo robots in their classroom, download the EDU Updater Utility so you can update on multiple devices at once.
The applications are free to download and are available for iOS and Android.