Panospace One
Reliable and affordable plug'n'play, our 3D printer Panospace One offers an easy way into modern technology world, because it has been designed to be easy to use and accessible to everyone.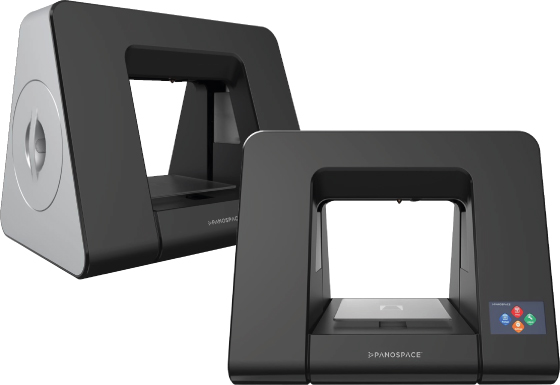 The unique design and user-friendly interface will delight both beginners and 3D printing enthusiasts, and thanks to compact size is the Panospace One ideal for use in schools, offices and at home.
Immediately ready to print!
The printer comes fully assembled with a pre-calibrated print bed, so you can start printing almost immediately.
All you have to do is install the PanoBuilder software, load the model, insert the included filament into the extruder, and then just wait for the results.
Easy-to-use and plug-n-play
As a 3D printer developed for both school and home use, Panospace One is simple to operate - with easy control through a color LCD touch screen. The 3.2" screen provides plenty of space and comfort, and because the interface itself is predominantly icon-based, the setup is intuitive and accessible even to beginners.
Files, which you want to print, can be sent to the printer directly from a computer connected by a USB cable or can be accessed on printer's microSD card (both are included). Most of the printing tasks are automated, so it takes just a few clicks to get it up and running.
Then just watch the progress on the touch screen and see how your model grows in front of your eyes.
Precission printing
The Panospace One is equipped with a 0.4 mm metal nozzle and uses the most common printing technology – fused filament fabrication. Its print head moves in one horizontal axis with an accuracy of 15 microns and the tempered glass bed moves in one vertical and one horizontal axis. The strength of this 3D printer is its high print speed and high quality with a layer thickness of as low as 0.1 mm.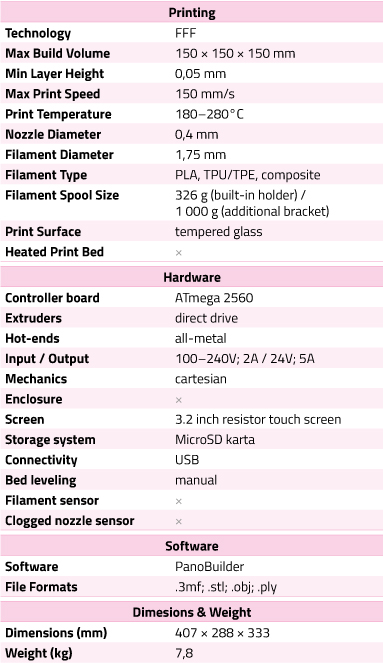 Filaments
Material most often used for printing on Panospace One is PLA filament with 1.75mm diameter, which is the most common materials for FFF (Fused filament fabrication) printers.
The advantage of a Panospace 3D printer is its open filament system - you don't have to print exclusively with filaments from the manufacturer, the printer is compatible with any filaments from other brands, as long as they have the same diameter. So you can unleash your imagination with flexible TPU / TPE filaments and composite materials.
Panospace PLA filament spools are available in 10 colors and two weights – 326 g, which can be placed in one of two holders integrated into the printer, or 1.000 g, for which an additional spoolholder needs to be printed.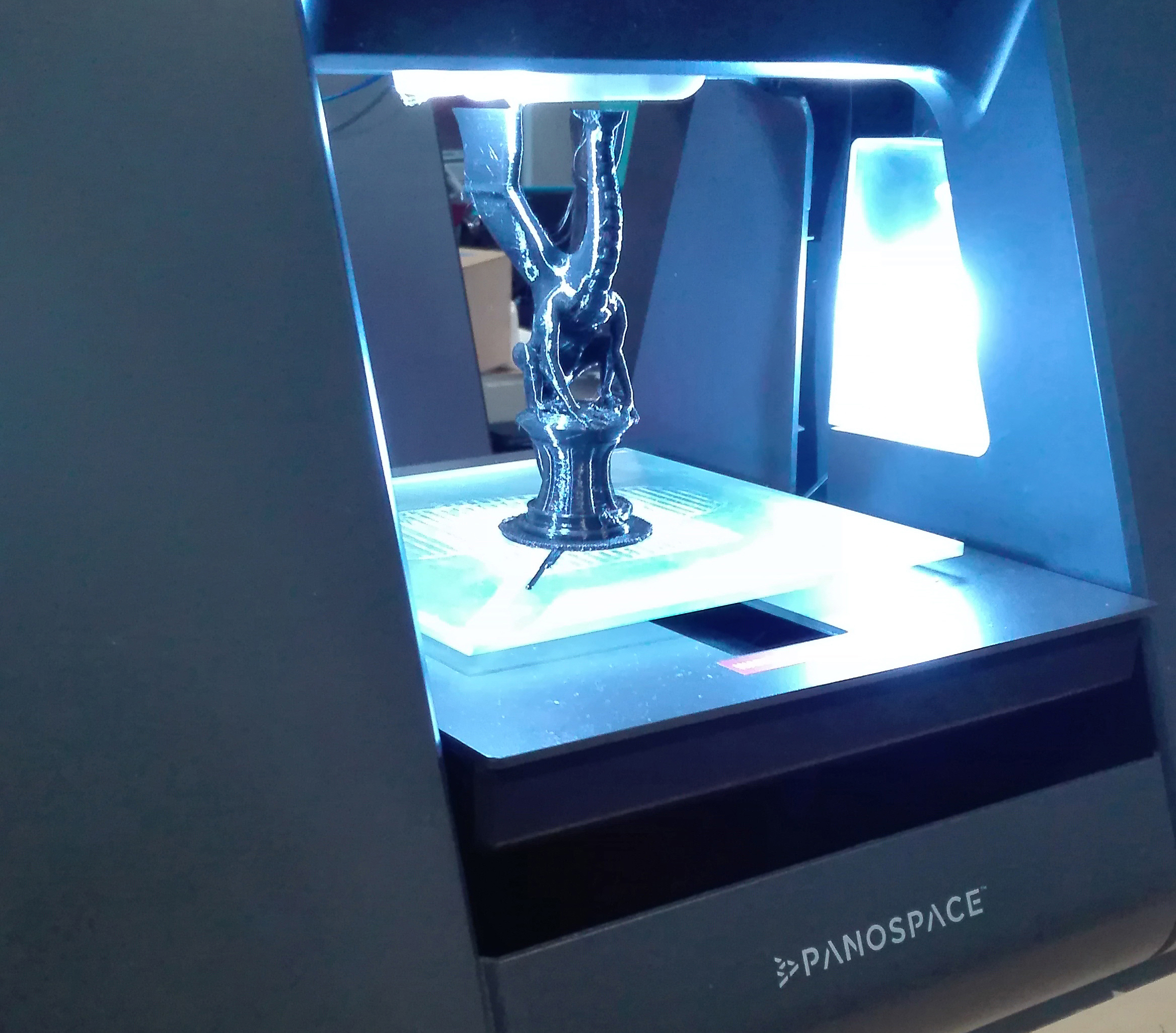 Modern design and high quality
Panospace One is a relatively small 3D printer, but it has unlimited possibilities. The 150 × 150 × 150 mm print area offers plenty of space for your models, and with its print quality and speed it's among the top printers in its category.
The body of the printer is made of a combination of metal and plastic with printing bed from tempered glass, yet with dimensiones of 407 × 288 × 333 mm, it only weighs 7.8 kg! It doesn't take up too much space on the desk, is easily portable and its design is clean, stylish and modern.
Panospace One comes pre-assembled and with pre-calibrated printing bed, so there is no assembly or need to calibrate, and the printer is also almost maintenance-free in the long-term.
Simple and safe to use
Thanks to simple and intuitive operation, Panospace One is an ideal aid in teaching 3D modeling and printing in schools, as it can be safely handled by children in elementary education.
You don't have to worry about injuries either, because One's printing bed starts raised and gradually moves down during printing and there is little space between it and the extruder – children cannot put their hands inside and come in contact with the nozzle. In addition, the print bed isn't heated, so they cannot get burned by it.
PanoBuilder Software
Like the printer's hardware, the software also strives to accommodate all users. You can easily prepare your models for printing in PanoBuilder slicer, which is available for free for devices with Windows 7+ and Mac OS X 10+ operating systems. PanoBuilder also allows you to operate the printer directly from your computer with just a couple of clicks.
You can work with 3MF, STL, PLY and OBJ files in a simple icon-based interface. You can easily resize the model, move the model across the print area, place multiple models at once, or copy & mirror models. Adjusting print parameters is also quick with preset profiles for different qualities and speeds.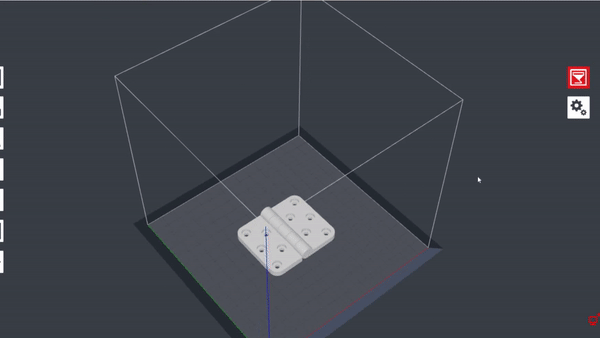 In addition, by integrating one of the world's leading platforms for sharing 3D models, MyMiniFactory, you have instant and easy access to tens of thousands of already created and tested projects that you can edit or print.