Bolt
The application-driven Sphero BOLT for children 6 years and above offers a unique programmable LED light matrix that supports animation and advanced sensors endless possibilities to be creative and have fun learning.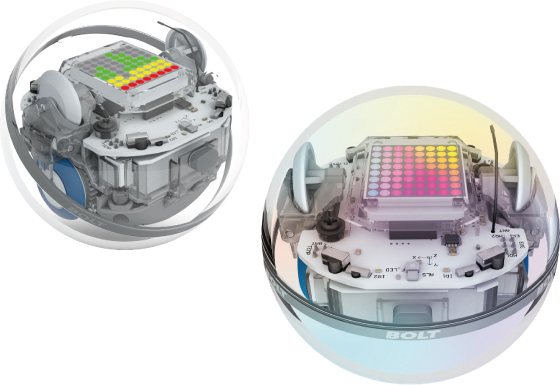 The transparent, solid and waterproof housing also houses a compass, infrared sensors that allow your robot to 'talk' to other Bolts.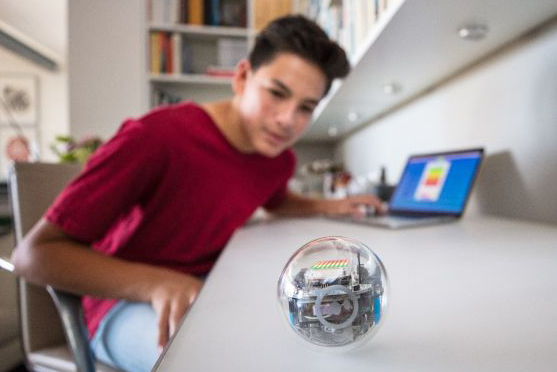 Ideal for children from 6 years
Sphero BOLT is suitable for children from the age of 6, who are still familiar with robotics and programming, because it can be programmed by simply drawing a route, but will be appreciated by those who are already familiar with block programming or even JavaScript and can write their own program.
BOLT is programmed via Bluetooh with a range of up to 30 meters using the app and can develop speeds of up to 2 m/s, but you do not have to worry if you lose it out of sight – thanks to the built-in compass you will always know.
Inside the transparent housing, which is waterproof and dust-resistant, there are also several advanced sensors and, above all, a LED light matrix on which children can view not only still images but even animations.
Rechargeable batteries
The Sphero BOLT is powered by a built-in battery that you can easily charge using the induction charger and the USB cable included. When fully charged, the robot lasts approximately 2 hours of use. If the battery is completely discharged, it may take up to 6 hours to fully charge.
Advanced sensors for even more fun
BOLT in his transparent body hides several new sensors and options. The most funny of them is the possibility to program your own picture or animation on a unique LED matrix 8x8 or to play one of the games in the application and watch its progress directly on this eight-color display.
You can play the games together with other BOLT robot owners in your area. With four infrared sensors, you can communicate with them and opening the doors to tactical programming.
BOLT is small and agile, but you don't have to worry about letting him out of sight. Because it has a compass inside, so you can always see where it is and easily recall it. His motion ensures built-in gyroscope and accelerometer for accurate sensing and adjustment of the engines, the robot is also equipped with encoders.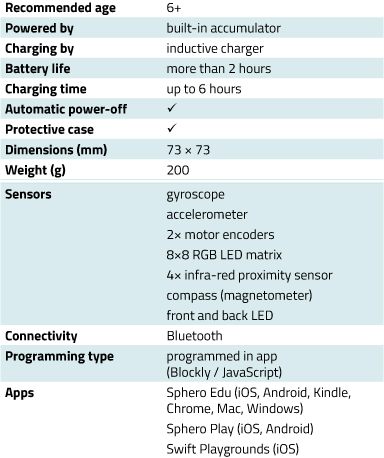 Bluetooth technology
BOLT is equipped with Bluetooth technology with range up to 30 meters, so you can control it remotely from the free app for smartphones and tablets.
Programming for beginners and advanced programmers
Sphero BOLT can be used by beginners and easily draw the path for the robot, as well as those who knows programming with blocks or even JavaScript programming.
With the application, you can turn your phone into a joystick or control the robot with facial expression, even when you're new on robotics world, but you can also develop your skills. Blockly programming teaches you if used commands are compatible or not, and later you can try to write a simple custom program on JavaScript language.
Application for BOLT
Try some of the fun ways to use BOLT in Sphero Play application. You can use your smartphone as a joystick, control the robot with facial expression, tilt your smartphone / tablet, etc. You'll also find games that play BOLT as a remote control.
Those who are already knowthe basics of programming will appreciate Sphero Edu application, where they can program the BOLT either by drawing, Blockly codes or writing own JavaScript program. You can save your programs in the application or get inspired by other robot users to create them.
The applications are free to download and are available for iOS and Android.
For iOS devices, is also available Swift Playgrounds application for introduction to beginners' programming.