Rugged robot
Rugged robot is ideal for outdoor use because of its rugged rugged construction and sensors, it can cope with various types of terrain including sand, gravel, mud, and even water.
Teach children from 3 years to entertain in a fun way.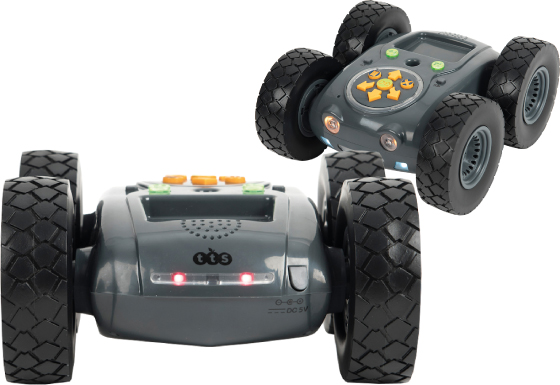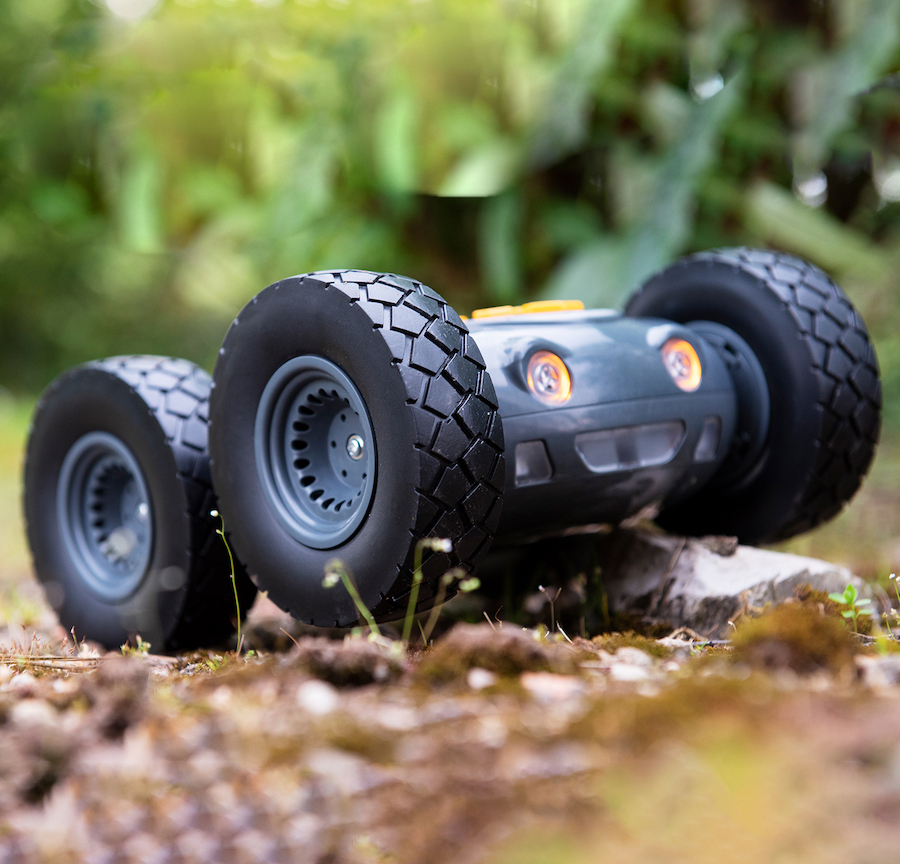 Ideal for children from 3 years
Rugged robot is suitable for children from kindergartens and primary schools as a useful tool for teaching STEM subjects (science, technology, technology and mathematics).
It's perfect for outdoor use, and with it you can easily develop children's programming skills, logical thinking, spatial imagination and planning, as this robot can meet the most challenging challenges. In addition, with three adjustable speed levels, you can teach children to predict how fast the robot can move depending on the terrain.
Rugged robot can be programmed not only by buttons on its body, but also via Bluetooth using a computer, tablet, smartphone or TacTile reader.
Rechargeable batteries
The Rugged Robot is powered by a built-in battery that can be easily recharged using the included 5.5x2.1 mm DC plug cable. When fully charged, the robot will last approximately 6 hours of normal use (approximately 1.5 hours in continuous use). If the battery is completely discharged, it may take up to 2 hours to fully charge.
To save energy, the Rugged Robot is equipped with a power saving function that is activated when the robot is not used for more than 5 minutes. To turn it on again, just press any button. In sleep mode, the robot consumes very little power, so a charged battery lasts longer.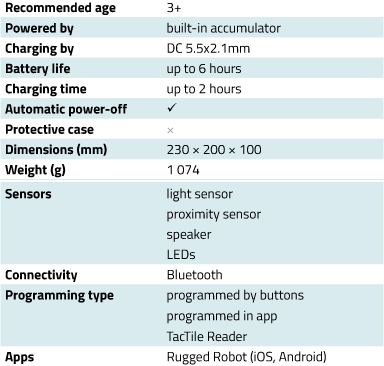 Speed ​​settings and other sensors
For feedback, the Blue-Bot is equipped with a loudspeaker and LEDs, that making it accessible to children with special hearing or sight needs.
But Rugged robot can do much more!
Is equipped with an obstacle avoidance sensor, the robot reverses when an obstacle is detected and attempts to find an alternative path around it, the light sensor that automatically turns on the headlights when it enters a darker environment, and you can switch at your own speed:
Mode 1 – Robot will pause between each sequence step.
Mode 2 – Robot will not pause between each sequence step when travelling in a straight line.
Mode 3 – Robot will not pause between each sequence when travelling in a straight line, and additionally the turns will be faster for better performance on uneven surfaces.
Bluetooth technology
The Rugged robot is equipped with Bluetooth technology, so you can pair it with your tablet, phone, computer or TacTile reader and take children's programming skills to the next level.
The Rugged robot can remember up to 256 steps
The Rugged robot can be programmed, just like the Bee-Bot and Blue-Bot, using the directional buttons located on its body, but you can go further and try programming via Bluetooth on your tablet, smartphone or computer.
Another option is to use a TacTile reader paired via Bluetooth, where individual instructions are placed directly into the reader and after pressing the Go button, the robot fulfills them. In case of wrong programming you do not have to start from the beginning, but just replace the instruction and verify its correctness again.
The capacity of the reader is 10 tiles with instructions, but for longer or more demanding program it is possible to connect up to 3 readers with each other or to purchase an extended set of functions.
The Rugged robot moves in approx. 20 cm steps, can rotate 45 ° and remembers up to 256 steps.
Diverse accessories
In addition to the TacTile reader, you can use many other accessories, eg. one of the thematic mats.
Rugged robot application
To control the Rugged robot you can use the application of the same name, application in which you can program the desired path and easily repeat the algorithms. Just have a tablet or smartphone with Bluetooth.
The application is free for download and is available for tablets with iOS or Android systeme.