MultiPro 4in1
With the most versatile 3DSimo MultiPro pen with OLED display, you can model three-dimensional models, solder, burn into wood and leather or cut foam materials, plastics and plexiglass. 3DSimo MultiPro can work with all currently available types of filaments, which have a diameter of 1.75 mm. For perfect and accurate printing, you can use predefined settings, or set your profile and upload it to the device via USB or use via the application.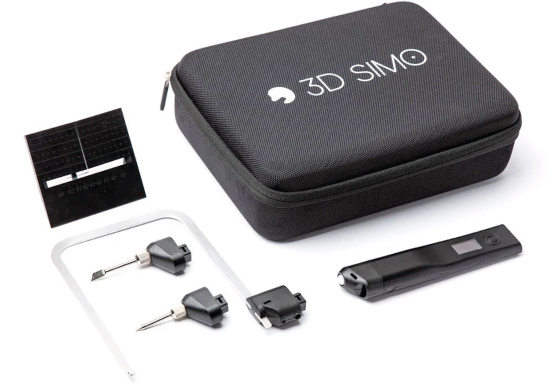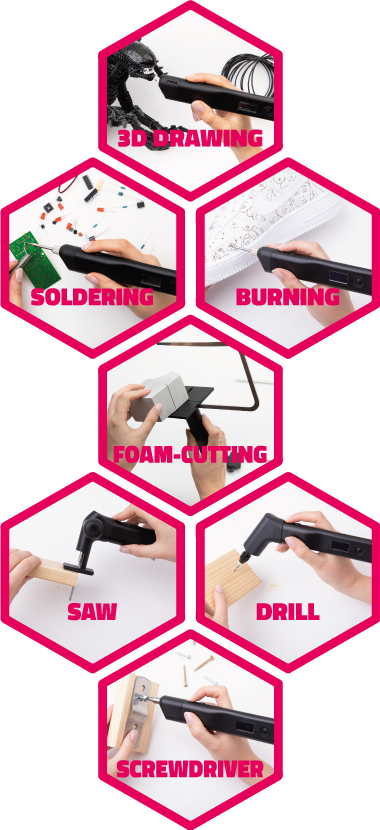 Multifunctional tool for DIY and creatives
3Dsimo MultiPro is a multifunctional tool that will delight not only 3D printing enthusiasts, modelers, and generally creative individuals, but also DIYers. It offers an inexhaustible number of possible uses from modifications and repairs of objects printed on desktop 3D printers, creation of your 3D objects from scratch, through assistance in creating RC and stationary models, design of architectural solutions, and visualizations to repairs and modifications in the home.
Along with the 3D pen, there are also four attachments in the package - a nozzle for 3D modeling, an attachment for soldering, burning and a cutting attachment with a resistance wire cutter. In the manufacturer's offer, you will also find other expanding accessories that you can buy (drill, screwdriver, jigsaw, …). Thanks to the function of automatic detection of extensions, you no longer have to set anything when replacing them, the 3D pen can handle everything by itself.
Thanks to the ergonomic design, the 3DSimo MultiPro fits comfortably in the hand, the solid impact-resistant construction ensures that the pen does not break even when falling from a lower height, and the heat-resistant plastic parts allow the pen to be in operation for several hours.
Possibility of setting material profiles
3DSimo MultiPro processes a wide variety of materials at different temperatures to achieve the best results. The basic material profiles are already set in the pen, but you can easily adjust and adjust their settings yourself. You can use either the OLED display or USB or an application connected via Bluetooth. You will also find video tutorials and printing templates in the application.
This 3D pen is not suitable for small children and is recommended for the age category from 10 years. The maximum temperature at the nozzle can be up to 280 °C, so burns could occur if handled carelessly.
Filaments
3Dsimo MultiPro supports all currently available materials for 3D printers with a diameter of 1.75 mm. In addition to the usual PLA filament, 3Dsimo MultiPro can work with ABS, PLA, PETG, HIPS, LAYbrick, Luminous, Wood, Flexi, etc. The application of the material is convenient and accurate and the setting of printing speed and temperature is easy.